政治家や選挙は、自由に投票し、積極的に参加民主主義、変更、オンライン投票の投票で
| | | |
| --- | --- | --- |
| | Former PM Junichiro Koizumi returns as Ultraman King | |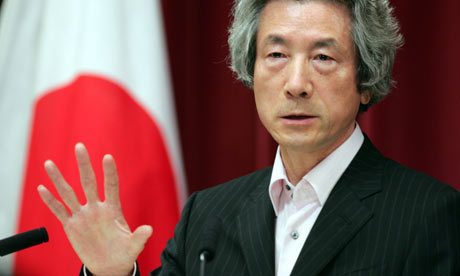 Junichiro Koizumi took on party conservatives as a politician. As the voice of Ultraman King he'll be confronting space monsters. Photograph: Toshiyuki Aizawa/Reuters
As a politician he took on party conservatives and became one of Japan's most popular postwar prime ministers. In retirement Junichiro Koizumi, the silver-haired reformer with an Elvis Presley obsession, is about to confront a very different foe: space monsters.
Koizumi, who retired from politics before August's general election, has swapped the soapbox for the studio to lend his voice to Ultraman King, an extraterrestrial TV superhero revered by three generations of Japanese.
Ironically for a politician who once threatened to reform his party or else destroy it, the 67-year-old was apparently chosen for his skills as a unifier.
"We considered many people who might be able to play this crucial role," said a producer at Tsuburaya Productions. "But we though that the only person who could really have the presence of Ultraman King, who brings th. [Ultraman] clan together, would be Mr Koizumi, who once led the country."
...
14 October 2009
Read more: www.guardian.co.uk
08.10.2010
taktek
-
関連の世論調査:
Crown Prince Naruhito
,
Crown Princess Masako
,
Empress Michiko
,
Emperor Akihito
,
Shinzō Abe
,
Yasuo Fukuda
,
Emperor Shōwa
,
Tomiichi Murayama
,
Tsutomu Hata
,
Heizō Takenaka
,
Yoshirō Mori
,
Yuriko Koike
,
Fumio Kyuma
,
Kiichi Miyazawa
,
Naoto Kan
,
Tarō Asō
,
Takako Doi
,
Princess Akishino
,
Masahiko Kōmura
,
Prince Akishino
(
Junichiro Koizumi
)
その他...